If your roof is damaged, whether you just need roofing repairs or a roof installation, you'll want to get it fixed up as fast as possible. A damaged roof can quickly jeopardize your home if the elements work their way inside. Knowing this, you'll need to seek out qualified roofing experts.
The roofing industry is competitive, and it can be hard to know who to trust. When you're looking for a contractor, it's important to do your research. There are a few key things to look for in a roofing contractor to ensure that you're getting the best balance of an affordable rate and quality roof work.
Check Licensing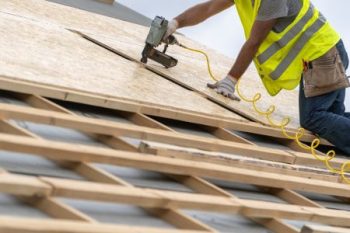 First of all, don't be afraid to ask questions. An experienced roofing contractor will be happy to answer any questions you may have about the entire roofing process. This should include inquiring about the company's licensing and insurance.
Are They Insured?
First, make sure that the contractor is licensed and insured. This will protect you in case of any accidents or damage during the roofing process. It's important to seek out a licensed roofing contractor to ensure your roof will be sound and up to building codes.
Do They Offer a Warranty?
Many companies will offer a warranty on their work. This means that if something goes wrong with the roofing job, they'll fix it within a certain time frame. Not only that, it indicates that these roof contractors stand behind the work they do, and strive for high-quality, professional roofing services. Also, some companies may work with your insurance company to make it easier for you to file a claim.
Check Cost
Be sure to ask for an estimate of the cost of the project, and make sure that the contractor is transparent about pricing. Get an estimate in writing before work begins. This will help you avoid any surprises down the road. Be sure to get a detailed quote before making a final decision. This will help you ensure that you're getting the best possible value for your roofing project.
Keep in mind that the most affordable prices do not necessarily mean you're getting a good deal; although it may be an attractive option, think carefully before deciding. Likewise, paying more doesn't guarantee a higher-quality job. Make sure you weigh the quality of their past work against your budget.
What Materials Do They Use?
It's important to know that a professional roofing service uses quality roofing materials. It's also important to know whether they work with the material you want for your roof! Roofing companies may not work with certain materials, so it's important to ask what they will use. Different types of roofing material require different skillsets.
What's Their Reputation?
Of course, there's always more to a company than what they say about themselves; the most important thing is how they come across to their customers. Quality roofing services will strive for complete customer satisfaction, and repeat customers are an excellent indication of this.
How Long Have They Been Around?
Of course, the amount of time that a residential roofing contractor has been around isn't a perfect indication of the quality of their work. However, a well-established roof contractor is more likely to have a positive reputation in their local area. This means you'll have more detailed reviews to consider, and they're more likely to be accurate.
In addition, you can ask about the amount of experience they have. Even a newer roofing business may still employ highly experienced roofing contractors.
Customer Reviews
It's a good idea to ask for recommendations from friends or family members who have had roofing work done in the past. A good roofing contractor will have a solid reputation. Ask around, online or in person, for recommendations, and check online reviews before making your final decision. Also check whether they respond to customer reviews; a company that replies to reviews, good and bad, is always good to see.
Also check their website or social media for testimonials. When a customer agrees to make their review publicly visible on their site, it's a sign of their confidence that the company does good work and that they believe others will have the same experience.
Ask About Previous Jobs
It's never a bad idea to ask to see pictures of past jobs. If the roofing company has a gallery on their website, take a look! Otherwise, make sure you ask them for pictures. They should be happy to provide you with examples of their past work. If their work is up to your standards and their price range is reasonable, you may have found your match.
Transparency
Communication is a vital part of any construction project, and it can be very frustrating to lose track of your contractor's progress, especially with something so critical as the roof of your home. It's important to know that your contractor of choice will pick up the phone when you call, and answer any questions or concerns you may have about the building or repair process. They should also be willing to work with you throughout the job, letting you know about any problems that might arise. Overall, the lines of communication should be very open; this will make the entire process go smoothly for everyone and give you peace of mind.
Call The Master's Builder!
If you need any kind of residential roofing services, you can count on us to get it done. From roof repairs to full roof replacement, minor repairs to storm damage repair, you just got one step closer to a quality residential roofing project. We'll work with your insurance agency to make it easier for you to file a roof insurance claim. If you're looking for a knowledgeable roofing contractor that uses high-quality roofing materials, your search is over. Our team of dependable roofing professionals will take care of your roofing issues efficiently and at competitive prices. Take a look around our website and give us a call today for a free roofing estimate.